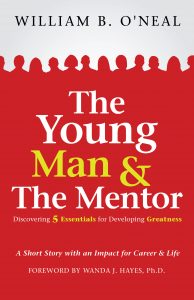 Inspire everyone in your audience to discover and develop the greatness that is within.  This workshop is based on William's book The Young Man & The Mentor. By the end of the training, your career aged participants (ages 12 and up), will be equipped with wisdom principles for making great decisions in their life and career. This keynote also helps to equip mentors and potentials mentors with tools for helping others develop.
The 5 Essentials are keys that empower participants to increase their personal effectiveness.  During our time together we will explore the following:
Essential #1 Developing a Heart for Service – Participants will learn how to serve their way to greatness.  Wisdom of Ages – "A man's gift maketh room for him, and bringeth him before great men."  Proverbs 18:16
Essential #2 Developing Personal Vision – Participants will learn what action steps are required to convert dreams into clear vision for life and career.  Wisdom of Ages – "Where there is no vision, the people perish: but he that keepeth the law, happy is he."  Proverbs 29:18
Essential #3 Developing Competence – Participants will learn to focus on developing their God-given talents into high levels of knowledge, skill, and ability that they can offer to others in the marketplace and life.   Wisdom of Ages – "Seest thou a man diligent in his business?  He shall stand before kings; he shall not stand before mean men."  Proverbs 22:29
Essential #4 Developing Effective Communication Skills – Participant will learn to skillfully interact with others in a way that generates positive results.  Wisdom of Ages – "A soft answer turneth away wrath: but grievous words stir up anger."  Proverbs 15:1
Essential #5 Developing Character Integrity – Participants will learn the importance of making decisions in life (even under pressure), based on solid principles and values.  Wisdom of Ages – "A good name is rather to be chosen than great riches, and loving favor rather than silver and gold."  Proverbs 22:1
To contact us for this keynote or workshop please click here.